How to have a wedding with just 50k
With the rise of everything in the Nigerian market, the least any couple would want to engage in an expensive wedding that takes a lot of time to plan and also leaves one in debt after the occasion is over.
If you no wan dey soak garri after your wedding because of gbese, then you need to learn how to have a wedding with just 50k.
At least if this article can help many bachelors marry this year then it has achieved its purpose.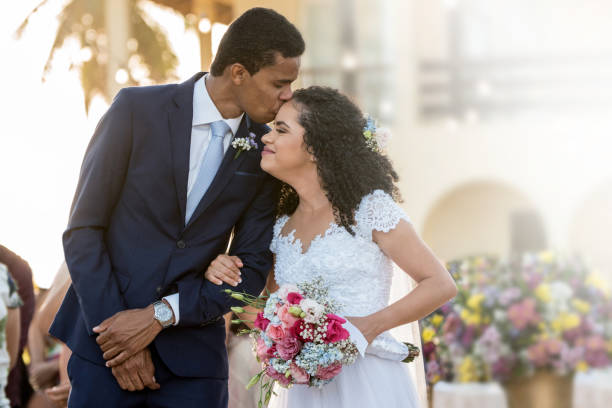 Read Also: How to plan a Wedding with just 100,000 Naira
First and foremost:
Call a meeting with your pastor and the church's marriage committee telling them that you don't have money at all, be plain as possible for your sake. Make everybody gbon!
Make an appointment with the court ahead of time. If you book for at least two months prior, the certificate will only cost you about 4k.
Bro put on your regular suit, yes, that same suit you used for that job interview last year. Spare like 2k for tie, socks, and handkerchief, change go even dey gan!
Purchase a fairly used bridal gown for 5k on Jiji or in bridal houses around your area. You can even tell mama Nkechi, the tailor next door make she help you run better white chiffon gown for the same 5k.

No one does it better than mama Nkechi

You can even rent a cheap gown for N3000 (wash it, give obioma make him amend am, then iron yourself).
Borrow your friend's car and fuel it (he should even fuel it for you, that's his wedding contribution), or simply use Taxify or Uber. It should cost like 4k going and coming. (Tell the uber guy make him no wait o, after the wedding, you fit just flash am make him come pick unah)
Only family and friends should be invited; well-wishers should call or visit the house later in the evening for meet and greet.
Don't get forget to buy rings oh, it's crucial. Two nice rings for that guy wey dey sell jewellery for under bridge no fit pass 2k, tell am make him help you polish am wella.
Give some ladies in the church choir like 2k make them help you do decoration, your wife nah their member so them go sha concur.
Don't try cooking for church people, just share small poffpoff, if e no reach them finish, OYO is their name, e no fit pass 2k. U fit even ask that small girl for compound wey like kitchen practice make she help you fry any ngwongwo poffpoff or chinchin anyhow. 
Find church like 5k, if not them go ban your generation from doing wedding for there.
Give your mother-in-law like 10k to cook abacha & utazi stew for the traditional wedding early on Sunday morning.
Read Also: Wedding crasher: See what the first wife does in her husband's wedding to second wife (Photos)
Now you have N11,000 left.
Don't forget you have to purchase palm wine for the traditionals…N1500 for a full keg (besides your wife papa suppose know one palmwine seller, make him use him money run at department, nah him pikin dey wan marry by the way).
Your bestman and bridal shower suppose use their own money buy the things they need, better still they should their choir or usher uniform, church go understand. Marriage is God's work. 
That your guy man wey dey take photo fit use like 2k do snapping for you. Make your friends use your phone to video the event, make sure your phone has a sharp camera ohh.
Give Tobi, your cousin, your laptop, let him be the Dj for that day. Don't forget to bring your woofer, if you don't have, borrow one.
Buy fuel of 2k for church, make NEPA no go fall your hand.
Your money should remain N5500 now?
Now transform that N1000 into 100 naira notes carry give your wife as bride price.
Use the remaining N4500 lodge for one small hotel or just carry your wife go house abeg, do your honeymoon for house, tomorrow nah Monday, you dey go work.
Now you have it, wedding dan complete, HAPPY MARRIAGE LIFE.
(share among your guys, I no wan hear say one brother never marry because of money, 50k pkere, wedding dan set)
Read Also: SEE 14 ROMANTIC THINGS PASTOR WROTE ABOUT HIS WIFE ON THEIR WEDDING ANNIVERSARY
Kindly follow us on: 
Comments
comments