9 things Chelsea fans should know about Romelu Lukaku's family
Now that the big Belgium has finally come back home to Stamford Bridge, there is a lot of excitement in the blues camp going into the new season. But how much do Chelsea fans know about Lukaku and his personal life and family?
Dailyfamily gives you 9 things Chelsea fans should know about Romelu Lukaku's family:
Read Also: Smith Rowe – 5 things Arsenal fans should know about his family
Lukaku's father is the ex-Congo international: Roger Lukaku:
Lukaku's father played as a footballer for the Congolese national team. When his father was 23-year-old, he started his career in Belgium. His first club being, Belgian Second Division club FC Boom. He achieved promotion to the Belgian First Division with this club in 1992. Lukaku is of Congolese descent by virtue of his father and mother. So it is right to state that he grew up with football in his veins. 
2. His mother; Adolphine Lukaku has a strong influence on his career:
Adolphine Lukaku has reportedly been involved in several of her son's signing decisions over the years, according to the Telegraph. According to the Telegraph, she was at the heart of Lukaku's 2014 move to Everton from Stamford Bridge.
Adolphine is also said to have encouraged him to refuse a new deal with the Toffees and then choose Manchester United over Chelsea. As a result, if the Blues want to keep their star frontman, they'll have to keep his parents happy.
She hasn't shown much affection for the current Champions League holders, based on previous evidence and it is a surprise that she even gave her blessing for her son to make the move.
Read Also: 5 Things Man United fans don't know about Sancho's family
3. Lukaku's mother is his number 1 fan:
Between the ages of 12 and 14, Lukaku struggled with his size and appearance. It was found that several viewing the Belgian didn't think he was the right age. They felt he was older than his age depicted.
Romelu's mother always brought her son's birth certificate to matches and trials to prove he was of legal age.
4. Jordan Lukaku, his brother is also a footballer:
Jordan Lukaku (born in Belgium on the 25th of July, 1994) is a left-back that plays for Lazio in Italy. He and his older brother are both Belgian internationals.
He began his professional career at R.S.C. Anderlecht, he made 9 appearances for the first team before joining Oostende in 2013, before becoming a regular. S.S. Lazio signed him for €4 million in 2016. Lukaku earned his senior international debut for Belgium in 2015, and he was a member of the squad at the 2016 UEFA Euros.
Read Also: 6 Things you didn't know about Mourinho's family
5. They survived in the face of poverty:
They went through some difficult times. Even after much suffering, they were unable to provide for the family's fundamental demands. She used to give her sons milk that had been diluted with water. They had to put in a lot of effort to raise their sons.
Coming from a low-income background to this position today is a cause for serious concern. Today, his tenacity and hard work have earned him a place in the family and in his country.
6. More football, less books at age 5:
Romelu became addicted to football by playing it wherever he could find a ball, a can of soda, or even a video game. Despite his passion for football, he didn't excel much in the classroom. He had such a strong passion for the game.
Romelu's father registered him in a local club, Rupel Boom when he was five years old because of his exceptional passion for football.
Romelu outpaced the other children in the team during his four years at the club. During one of his games, scouts from another club, Lierse, noticed him.
7. He was bullied as a kid at school:
His peers did not treat him properly when he was in school. He only had one close companion. His peers used to refer to him as "Big black boy" at school. When his pals teased him, he was devastated.
He was more sensitive at the time when he was called Big Black Boy. Thankfully, all that bullying was transformed into positivity and has given Lukaku the mental strength and ability that has defined his career up till now.
Read Also: 7 Things you may not know about Messi's wife (Antonella Roccuzzo)
8. His Love Life:
Romelu Lukaku, like most sportsmen, strives to keep his personal and love life private. However, the most essential detail regarding Romelu Lukaku's personal life is that he is neither married nor single. He is currently dating Sarah Mens, however, it has been stated that he had at least two previous relationships.
She is also the mother of their son Romeo Emmanuel Lukaku. Despite the fact that the Inter Milan striker has yet to reveal Romeo Emmanuel's face to the world, Lukaku has never shied away from praising his lovely son when the situation calls for it.
9. Never say any bad word about Lukaku's mum, ELSE!:
Former Manchester United teammates Romelu and Zlatan Ibrahimovic had a heated discussion during the Coppa Italia quarter-final. According to reports, Zlatan intervened in the dispute by bringing Lukaku's mother into the mix.
As a result, Zlatan received a red card, while Lukaku was suspended for challenging Zlatan to a fight. His mother was greatly annoyed by the occurrence. As a result of the tragedy, Adolphine instructed her son to win the match at any cost in order to avenge Zlatan.
"Go do your voodoo sh*t, you little donkey. Go do your voodoo sh*t. Call your mother!," were Ibrahimovic's words to Lukaku during the fight.
Angered at the fact that his mother was mentioned, Lukaku responded angrily; "Well, let's go inside you b****. We will see,".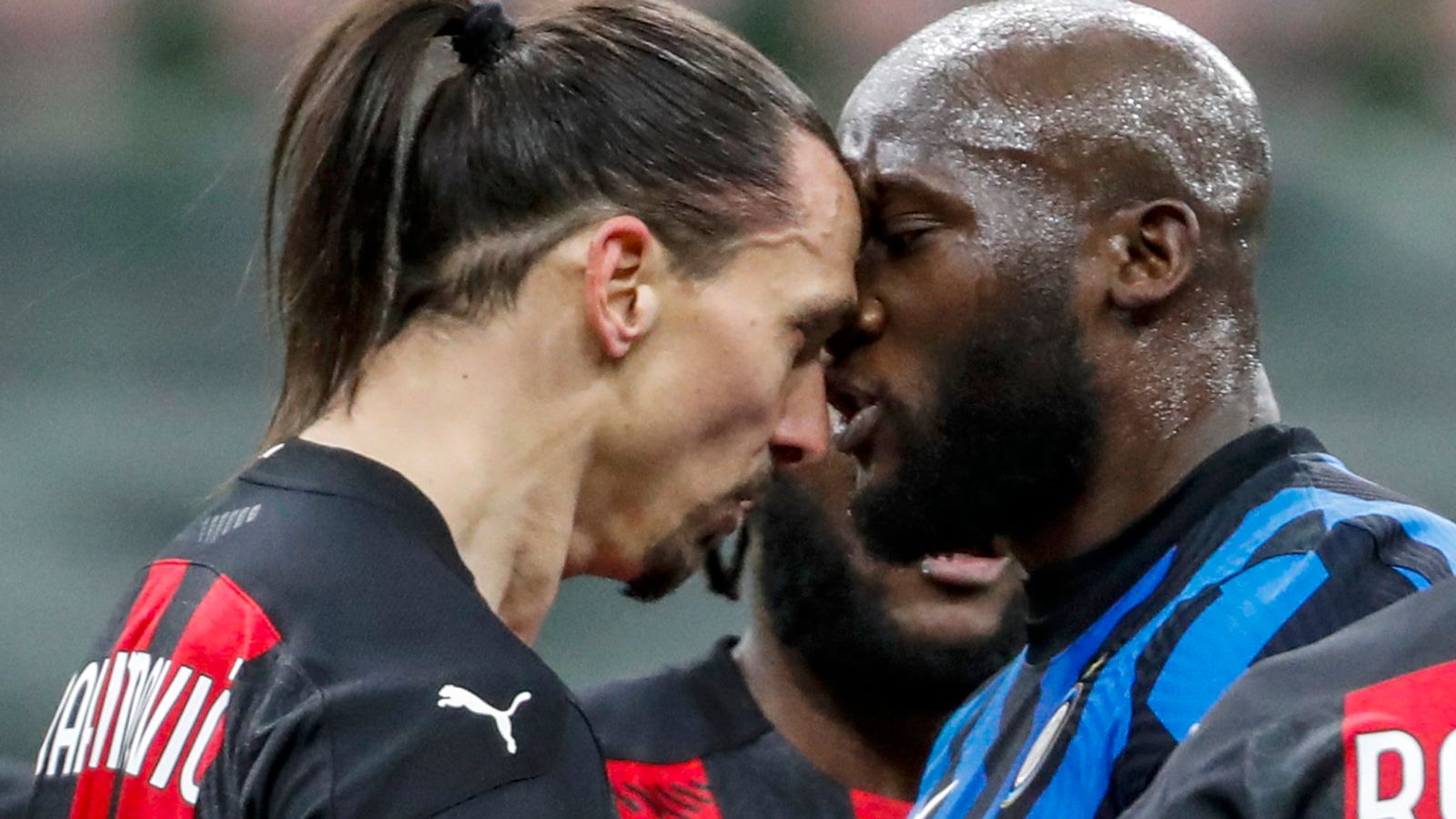 Read Also: 6 Things you didn't know about Mourinho's family
Kindly follow us on: 
Comments
comments